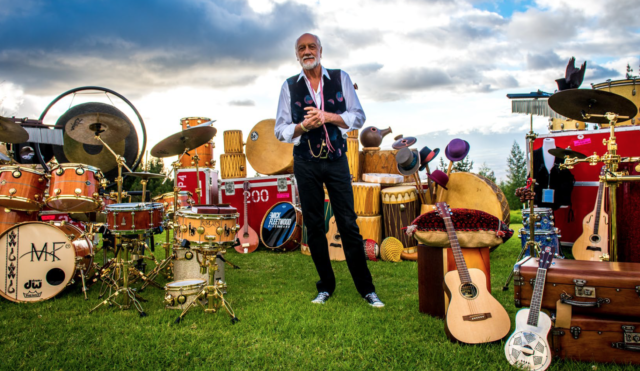 Mick Fleetwood will step out from behind the drums to entertain in "nights to remember" as he relives 50 years of Fleetwood Mac.
Guests will meet him – dine with him – and listen to his spellbinding stories in a unique and intimate setting.
Sydney & Melbourne, Australia: Mossgreen is delighted to announce and welcome book and art collectors together with music aficionados to meet Mick Fleetwood at two exclusive ticketed evening events in Sydney on 28 and 29 November and Melbourne on 1 and 2 December 2017. As part of these events, there will be an exclusive exhibition of the new limited- edition collector's book Love that Burns – A Chronicle of Fleetwood Mac.
"Fleetwood Mac got famous so quickly; we were still playing small clubs even as we were becoming pop stars."- Mick Fleetwood
Mick Fleetwood commented on his forthcoming visit to Australia, " I am looking forward to visiting Australia to tell the stories behind the early Fleetwood Mac, so superbly presented in this new Genesis Publications' collector's book."
Fleetwood continued, "This is a story that is intriguing and dramatic and yet largely unknown to many people. It is Fleetwood Mac's 50 years this year so this is a great time to celebrate, so see you at the Mossgreen Love that Burns' events when I will tell all."
Paul Sumner, CEO of Mossgreen says, "We are delighted to collaborate with Genesis Publications and Firstmac in bringing Mick Fleetwood's chronicle to Australia. The book and the events will give a rare insight into the meteoric journey the Fleetwood Mac band took in its early years. We look forward to celebrating the book's Australian launch and to giving fans and collectors the rare opportunity to meet the legendary musician in Sydney and Melbourne."
Love that Burns is published by Genesis Publications (UK) in a numbered limited edition of only 2,000 hand-bound copies worldwide and features over 400 rare images including many from Mick Fleetwood's personal archives and also includes contributions from early Fleetwood Mac band members, including John McVie, Jeremy Spencer and the legendary Peter Green. The book contains an original manuscript from Mick Fleetwood recounting his early bands, Fleetwood Mac's debut performance in 1967 at the Windsor Blues and Jazz Festival, first international tours, live gig antics, playing with Blues Legends at Chess Studios, and his friendship with Peter Green and the many talented members that formed Fleetwood Mac in the years before 1975.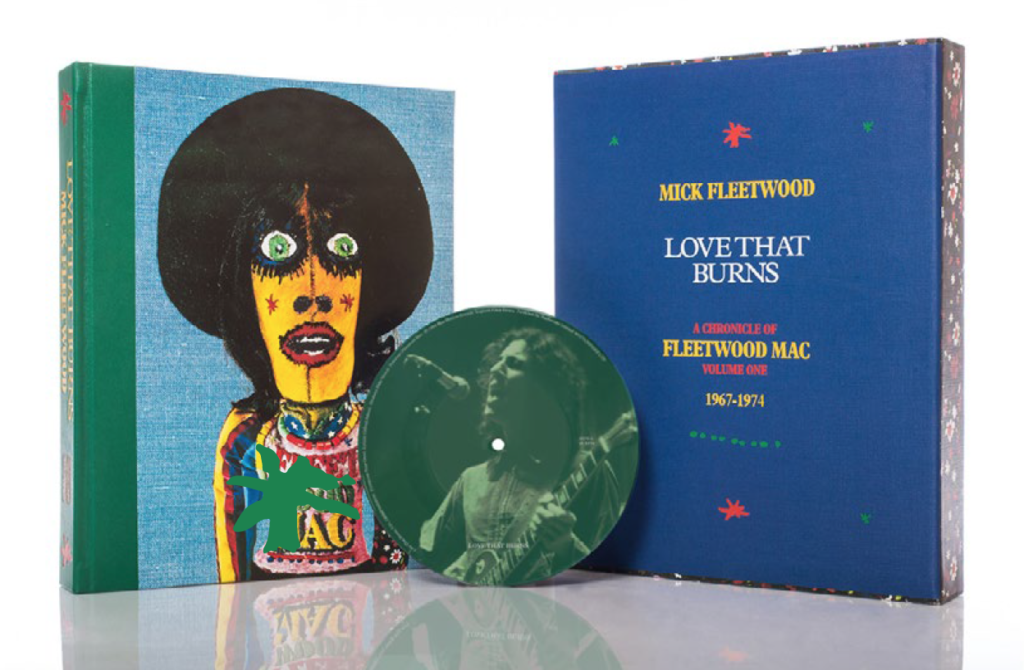 Master printed and then hand-bound in quarter leather by craftspeople in Milan, Italy, the front cover features the Fleetwood Mac artwork of Sixties graphic artist, Gunther Kieser with each copy individually signed by the author, Mick Fleetwood. The highly coveted edition also features an exclusive 7″ vinyl picture disc featuring 'Love That Burns' from the 1968 album and a rare instrumental track, first recorded in June 1967, titled 'Fleetwood Mac', from which the band took its name.
Mick Fleetwood is a self-taught drummer and a founding member of one of the most successful bands of the last 50 years, Fleetwood Mac. Formed in 1967, their first album Peter Green's Fleetwood Mac came in at no.4 in the UK charts and brought the band overnight success. They went on to release the no.1 hit 'Albatross' and a series of critically acclaimed albums, with further hit singles including 'Black Magic Woman' and 'Need Your Love So Bad'.
A constant in Fleetwood Mac's frequently changing line-up, Mick Fleetwood took over management of the band two years before they released Rumours which – having sold over 40 million copies worldwide – remains one of the best-selling albums of all time. Mick Fleetwood now owns the hugely successful Fleetwood's on Front St. restaurant and bar in his home of Maui, Hawaii. His latest creative endeavour is the limited edition from Genesis Publications, Love that Burns – A Chronicle of Fleetwood Mac.
To view all details and purchase tickets, please visit http://www.mossgreenevents.com.au/forthcoming.html